When I found these blue keds at a thrift store---near-perfect condition and only $10---I knew immediately they had to be mine so I could make a TARDIS tribute out of them.
My first step was to get a good reference image. I wanted something already drawn so it would be easier to transfer to paint, and I wanted something cartoony and not overly complicated so it would be recognizable but simple.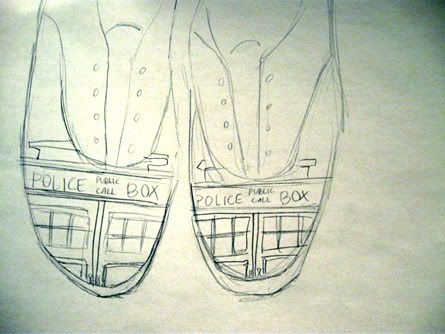 Next I made a quick (very quick) sketch of how I wanted to lay the elements out on the shoe. Basic, easy-to-follow.
I did a little bit of research on shoe painting that said oil paint was more durable than acrylic, so that's what I went with---I wasn't up to going out to buy fabric paint and I'm already familiar with how oils work. My arsenal: carbon black, titanium white, and a huge jar of liquin which thins the paint for better consistency and quickens drying time.
My first step was a stripe of black across the front. I just did it freehand.
The white windows, however, I wanted as straight and symmetrical as possible so I taped them off.
I used a tiny round brush to fill in the squares with white. The texture of the shoes' fabric took some getting used to, and I applied several layers of paint loaded with liquin to cover all of that dark blue.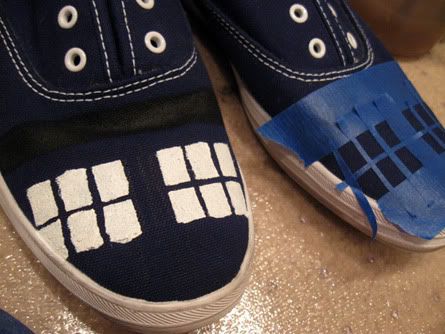 The results were satisfying if not perfect, so I moved onto the next shoe.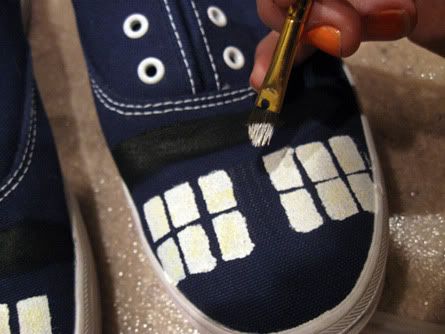 After straightening up the edges a little with a flat brush, I added a bit of cadmium-barium yellow light for a bit of a glow since the windows looked a bit like a kid gone crazy with white-out.
Next I took a black sharpie and started outlining the doors and the top of the blue box. I also painted the white sign on the front (not pictured).
The shoes weren't looking TARDIS enough for me yet, so I wanted to paint some squares down the side of the shoe to look like the front doors. I mixed up a blue just lighter than the shoe colour and added lots of liquin for a very runny paint.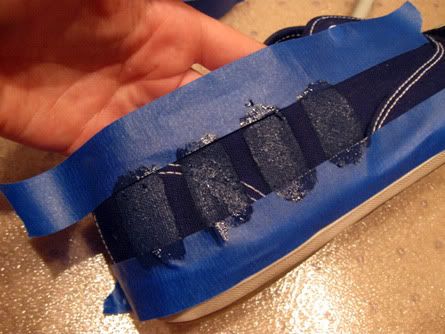 After taping the sides, I painted several squares with a flat brush.
And then I had to let the shoes dry for 24 hours. This was hard for me because I hate letting a project sit in the middle of it.
The next night the shoes were dry, though, so I outlined the windows in black sharpie to fix up the edges a little, and I put the writing on the white sign.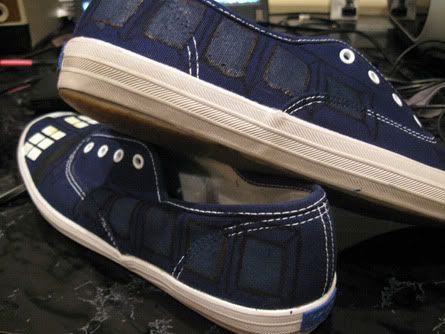 I outlined the blue squares as well on the outside of the shoes. I could have done more to make them match the TARDIS better, but I was fine with just getting the gist of the thing.
And now my least favourite part: tackling the lettering. Literally, I guess---I had to use a wall tack dipped in paint because I didn't trust myself with a fine brush. Getting the paint consistency for this was hard because it needed to be thin enough to write with but thick enough to glob to the tack and make a fine line. I paid a lot of attention to my reference and sketched the letters in pencil on the black stripe before painting, but once I'd begun I pretty much just made it up.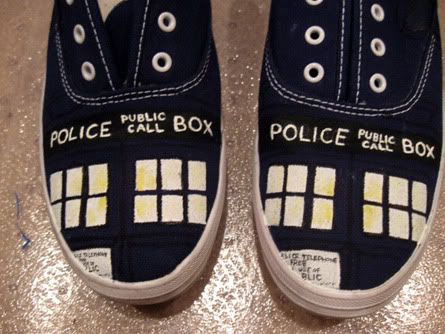 It came out okay I think.
I let the paint dry for 48 hours this time to be safe before lacing the shoes up and showing them off to my sister (who'll inherit them for Christmas). I misted on a light spray of fixative and called it finished.
Later I'm planning to take a silver pen and add "DON'T BLINK" in tiny letters to the back of the shoes. My entire English department will want to be my best friends now.
ETA: My current blog is updated
here on tumblr
.